World Dermatology Conferences Readership Profiles: Key Metrics (Source: Google Analytics)
A statistical representation of global users for worlddermatology.conferenceseries.com(Source: Google Analytics)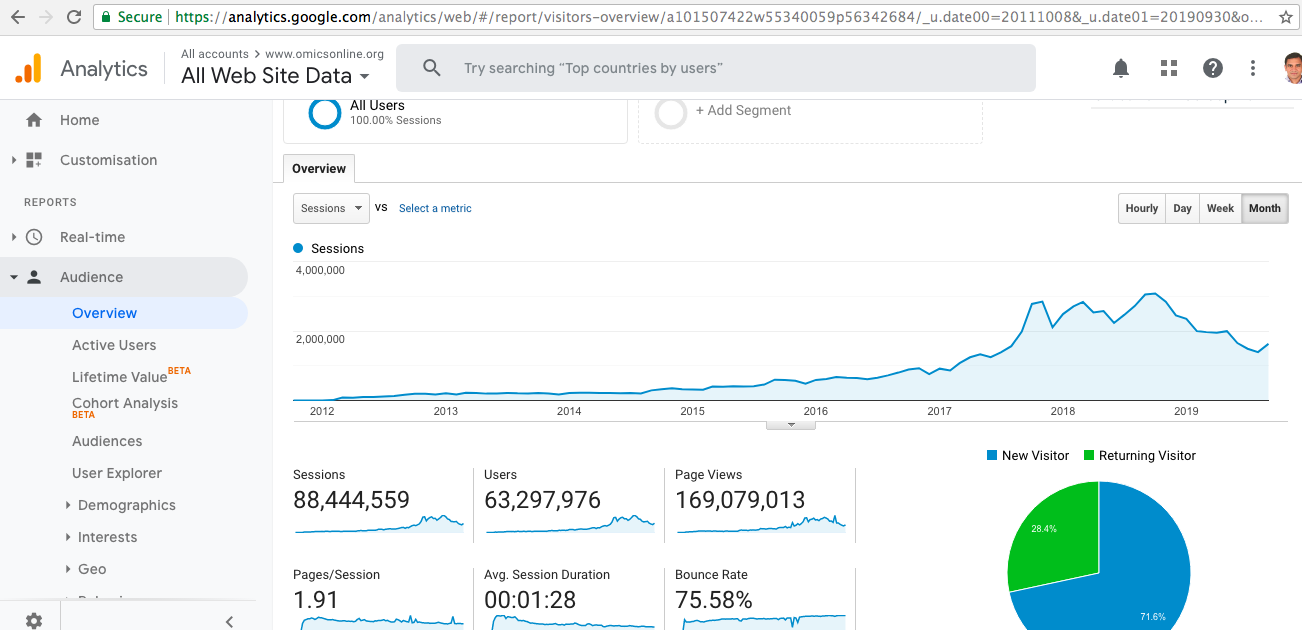 21st World Dermatology Congress is organized by Conference Series LLC LTD which is comprised of 3000+ Global Events with over 1000+ Conferences, 1000+ Symposiums and 1000+Workshops on diverse Medical, Pharmaceutical, Clinical, Engineering, Science, Technology, Business and Management field all over the globe. Conference Series llc LTD hosts numerous conferences, where knowledge transfer takes place through debates, round table discussions, poster presentations, workshops, symposia and exhibitions and which helps get possibilities for treating the diseases with new era, technology and research.
World Dermatology 2020 Scientific Committee is honoured to welcome you all to attend 21st World Dermatology Congress which will be held during March 23-24, 2020 at Tokyo, Japan.
21st World Dermatology Congress will raise the most dynamic and latest issues in the field of Dermatology. The Congress will highlight the discussion around the theme "Contemporary Modes to Escalate Research in Dermatology" by bridging the gaps between the intellectuals from across the globe to enlighten their research and findings at World Dermatology 2020. The highlights of the conference includes Dermatology, Clinical Dermatology, Paediatric Dermatology, Dermatological Diseases, Psoriasis, Hyperpigmentation and Vitiligo, Leprosy, Skin Cancer, Mohs Surgery, Dermatological Techniques, Alopecia and Scalp Problems and many more.
The aim of World Dermatology 2020 is to aggregate Researchers, Academicians and Scientists from the Dermatology community and to create an avenue towards robust exchange of information on technological advances, new scientific achievements, and the effectiveness of various regulatory programs towards Dermatology at this event.
Benefits:
All accepted abstracts will be published in the supporting journals of the conference and Conference Book Proceedings.

Each abstract will receive a DOI number provided by Cross Ref.

Opportunity to conduct Workshop with your team members.

One to One Interaction with Keynote Speakers, OCM and Eminent personalities for the future course of work.

Opportunity to chair a session.

Certification by the organizing committee.

Individual keynote Page will be created to get more visibility for your scientific research.

Huge Benefits on Group Registration and much more.

If you want to attend with your research group you can avail Group Discount.

Abstract page and speaker page will be created in Google on your name.

Live Streaming of your presentation through our websites and YouTube.
Global Internet users for conferenceseries.com: Statistical representation (Source: Google Analytics)
Flip on the other side Conferenceseries world's leading specialist in organizing scientific conferences, events trade, and consumer exhibitions both domestically and internationally in different verticals and horizontals like Medical, Pharma, Engineering, Science, Technology and Business attracting more than 25 Million+ Visitors, 25000+ unique visitors per conference and 70000+ page views for every individual conference would help in quantifying our presenters research and biography visibility to the online communities and get recognized worldwide.
Conference Series Web Metrics at Glance: Source: Google Analytics
25 Million+ Visitors
25000+ unique visitors per conference
70000+ page views for every individual conference
Out of the 500,000 listing worldwide major conferences attended by 2.5 million attendees 16.8% attendees are drawing only from our Medical, Pharma, Healthcare, Nursing, Engineering, Science, Technology and Business conferences. The main reasons behind the increased popularity of our conference attendees is because of the changing mindsets of academicians, researchers and industries in exploring the opportunities for exchanging ideas, sharing resources, building networks and increase awareness of the on the recent happenings in their research around the world.
"Attending and presenting at conferences remains as the most favorable model of knowledge dissemination for researchers and practitioners to keep abreast of all advances in their field, presenting state-of-the-art research usually on a variety of subjects"
We will continue to set our bar higher and make further progress to organize 1000 conferences in 50 countries across all continents by 2018. We have recently launched online digital video library where all our conference proceedings would be shared and be accessed by the online communities freely.
Channels for driving additional traffic to your research
Web Analytics are best means of measuring concrete details like how many people are visiting our websites, how many of those visitors are the unique visitors and how many of them are staying long to view the complete information available in our sites. The following snapshots of some of our websites will clearly depict the metrics how our conferences stand at par to the other conferences in terms of Visibility, outreach, Participation Number and relevance to their subject.
The metrics of these websites represents more than 25+ Million visitors in addition to this we also equipped with 10 additional scientific websites represents 10+ Million visitors traffic to our conference websites.